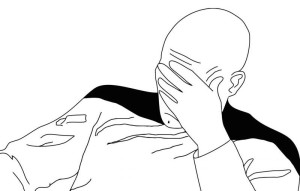 Today being the first day of week number 2 doing MPieceOfCrap45, better known as MP45, I have decided to put an end to this nonsense and stop using this SCAM.
It is unfortunate that I cannot give a detailed example of why I am stopping this program by showing you the actual list of the workouts and diet, but I will try to explain the best I can why this program is 100% crap. I'll try to do this in a short summary below, and then I'll explain in better detail everything there is wrong about this program.
As I posted yesterday, last week's training was a very intense, so intense that I honestly said this program wasn't suited for beginners. From an excessive load of strip-sets to very short breaks between sets, and relatively low caloric days when it came to cardio and days off, plus a ridiculous amount of coffee on a daily basis, made it a tough week even for someone like who spends over an hour a day 6 times a week, lifting heavy all the time and not wasting any time talking or taking extra long breaks. Now, all of the sudden, I start the second week with an increase in macros (or calories if you prefer) in comparison to last week, with a workout that other than the warm up run and push ups, I didn't get a drop of sweat out of my body. We're talking about a one set per exercise with very few exercises in general. To explain better how different this workout was compared to last week's workouts, is like comparing a marathon to a 5k race. So for anyone to tell me, this kind of plan can get someone ripped with a muscular body in 45 days, is the biggest lie anyone could ever say, leading me to the conclusion that MP45 is one of the biggest scams every created.
If after reading this short summary you still feel like reading more of what I have to say, then feel free to continue reading below, otherwise, by now you should already know is not worth it spending a minute of your life reading anything related this program. You'll do 110% better watching youtube workout videos and getting a gym membership than dedicating any of your time to MP45.
Anyone with a little knowledge about how muscles work is aware that in order to make a muscle grow you need two things, eat and lift, and by lift I mean lifting enough weights to put stress on the muscle fiber which will cause macro-tears on that will lead the muscle to grow in size and strength. Of course, you can do this the right way (minimizing the amount of body fat you gain along the process) or the wrong way (increasing your body far tremendously along the way). Similar concept applies to body fat loss. With proper eating and exercising you will lose body fat, but just like with gaining muscle, you can lose more body fat than muscle or lose a lot of muscle along the way, depending on how you eat and exercise. Anyone that spends lots of hours a week at the gym trying to gain muscle knows how hard that is and how horrible is the experience to lose muscle because of a poor diet and exercise plan. So far MP45 has demonstrated to me that it is a bad plan that will make anyone who has worked hard for their muscles lose their gains and those without much muscle won't gain any at all.
For a workout plan to put me through a day of exercises that literally didn't get my muscles exhausted, burning, feeling a "pump" and sweating like I always do, that says a lot about how bad this plan is. And believe me, this wasn'
t because of me not giving 100% of me or using enough weight. One exercise of one set only for back, chest and shoulders is not going to make absolutely anyone lose body fat or gain any muscle ever, especially when the total amount of calories today is even higher than during last week's excessive lifting. And while earlier today after I finished the workout, I refused to even look at what was due for tomorrow, I just did and is exactly the same thing than today. A couple of warm up sets followed by 1 set for the lower body, that includes 4 weights exercises and some body weight squats and lunges. Not to mention Wednesday is rest day. What in the world…..?
I have tried many programs since I got into fitness, some made by companies like BeachBody, other programs made my trainers, and even some by online fitness celebrities, and in all the years I have been trying programs, I've never come across with such a horrible workout program. This is literally the first time I have stopped using a fitness program ever, and on top of that only after a week of doing it. When I started this program I was already convinced it was a scam based on the claims of getting results that usually take months, and sometimes over a year to achieve. In fact, the reason that got me into trying the program was because of this false claims. The one thing I didn't know was how bad this program really is, starting with the absolutely horrible grammar and layout. It feels like the person putting it together at times was thinking of one exercise when he was supposed to write another exercise, making it very hard to understand the exercise flow. And last but not least, the PDF files have a LOT of pages, which means you'll spend a lot of time reading explanations about so many things that in my opinion are trying to create this image on the reader's mind that this program is the best in the world by following all this scientific explanations when the reality they're just justifying the $97 dollars the reader just paid.
Conclusion: Do NOT spend a dime or waste your time in this program even if you get it for free from a friend. It won't provide you with any benefit whatsoever. Any of those muscular people posting pictures of them wearing MP45 gear and claiming their looks are thanks to that program are lying and getting paid to attract people to buy the program through the affiliate program MP45 offers.