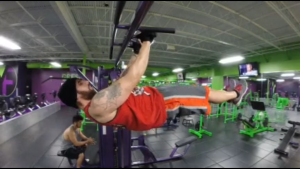 The Front Lever
It has been a little over two years since the last time I tried doing Front Levers. At that time I was working at a small private gym and weighting about 10 less than I weight now. I can't really recall where I first saw this exercise but it called my attention making me want to try it. For me it was a time where anything that looked challenging enough I would try it and if I wasn't able to do it, I would condition my body until I got it done.
My first attempt was a success, although I was never able to do more than 4 repetitions, and  my last rep would never get to be completely horizontal. It was fun though, since it is one of those exercises that puts your core muscles to the test, especially if there is no swinging to help and you use your muscles instead.
This time I was able to do 7 reps, and although I could have probably gotten to 10 I felt I was already having trouble reaching a full horizontal position, since I was trying to hold it for a split of a second each time and lower myself slowly to avoid swinging. Eventually I will work on holding it for a longer time until I am able to just stay there for a considerable amount of time.
For now, here I leave you with a video of the exercise.