Although I've been riding bicycle for most of my life, and have done some crazy stuff like riding one downhill with no breaks or going at crazy speed during a rainy day (I still have visible scars from the fall), I have never in my life gone mountain biking on an off road trail before. Being someone who loves nature and outdoors activities, plus the fact I own a GoPro camera, got me into buying a Specialized Hardrock MTB and give it a try after seeing we have some really nice trails in South Florida.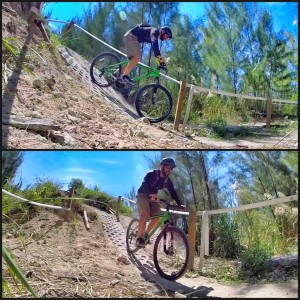 I think most people who want to become active find it pretty boring to go walking or running on the streets. While in Miami we don't have many areas to go hiking (let's ignore the Everglades where you can either get eaten by an alligator, a snake or mosquitos) like probably people in North Florida do, we do have some nice parks available. Still, walking could be considered a boring activity. Imagine driving 30 or 40 minutes to one of these parks just to walk for an hour and then drive back home. Well, the good news is, you could always get yourself a mountain bike and visit the trails like the one in Virginia Key.
I must admit that, while I didn't have the courage to throw myself down from some of the obstacles, I did enjoy the whole trail and found it pretty challenging at times, which is great if you want to burn some good calories. For instance, it took me 1:30 hour to ride 2.06 miles (breaks included) and I burned a total of 1,240 calories. For me, that is definitely a good burn.
My goals now are to visit the Amelia Park next weekend, then the Oleta River Park trail and eventually the Marco Island trail. Somehow I have the feeling I will become kind of addicted to mountain biking and I will be planning a ride each weekend, unless I end up getting a kayak and I start enjoying the ocean as well.
In any case, I highly recommend anyone living in Miami or South Florida to get yourself a mountain bike and start enjoying the trails we have available, since we don't have mountains to explorer.