What better than celebrating Valentine's Day by running a Spartan Race? Luckily for me, I don't really celebrate V-Day, but I do love obstacle races, which was a pretty damn good reason to stay away fro all the love posts online.
Left home at 4am to drive up to Tampa, with enough time to get ready for the race, including setting up my GoPro camera. Temperature was around 42º by the time my race was about to start, which is not a big deal, but when you're about to run and most probably jump in cold water, it becomes one of those "oh crap, this is going to be fun…. not" moments.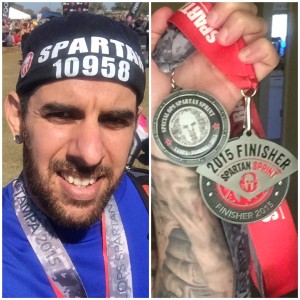 Overall, I thought the race was tougher than my Super race from last year, but I think two main factors that got me to this realization has to do with to very specific issues. The first one, right at the beginning of the race, during the second obstacle, while helping a lady jump over the wooden obstacle, the force she applied in order to reach the top wasn't downwards but find of forward, literally throwing me to the floor and hitting my knee and wrist against the concrete floor. Although my knee hurt just at that moment, my wrist was the one with more damage, which became worse as I had to keep using my hand throughout the race. The pain became excruciating and there was nothing I could do about it… because I wasn't going to quit and I wasn't going to do 30 burpees just to skip each obstacle. The second issue was the amount of stairs we had to climb during 75 to 80 percent of the race. I've never in my life climbed so many stairs before in a single day.
I'll be honest, while I enjoy helping others to overcome obstacles, that initial injury that cost me having to deal with so much pain and ending up not being able to use my hand for a week after the race, taught me that not always I can sacrifice myself for those around me, especially during a race. The worse that can happen during a Spartan race is, that if you can't complete an obstacle, you'll have to do 30 burpees, and even then you're getting something physically positive out of it.
My goal now is to prepare and focus for next year's Beast race, which most probably will be in Atlanta, and for once I will try to focus on timing other than recording videos with my GoPro. This along with a Tough Mudder race and smaller obstacle races will keep me busy for a while when it comes about outdoors physical activities.